Use the form below to sign-up for camp!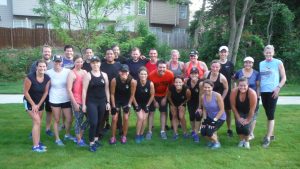 Join the thousands of men and women across the nation who are toning, slimming down, losing weight, and getting into shape with Operation Boot Camp. Operation Boot Camp's Brookhaven location offers a 6 week/3 day a week, co-ed, outdoor group fitness program which uses innovative exercise to achieve fast and permanent results.
Located at Skyland Park, we are convenient to Oglethorpe University, Buckhead, Lenox, and other Northeast Atlanta neighborhoods. Skyland Park offers lots of green space to use.
Results Start Here!
Brookhaven Description:
Where do we meet?
We meet in the Skyland Park parking lot in front of the volleyball courts.
Address:
Skyland Park
2600 Skyland Drive
Atlanta, GA 30319
Google Maps Link

When does the Brookhaven Boot Camp offer fitness boot camp programs?
The Brookhaven Boot Camp offers fitness programs at the times listed below:
6:00 a.m. on Monday, Wednesday and Friday for 4 weeks.
More Information?
For any general questions please review the FAQ page. After enrolling in a session, you will be scheduled to attend an orientation which will cover the specific details about Operation Boot Camp's Brookhaven Boot Camp location.  Pricing is as follows:
Come join us for a socially distanced, high energy, outdoor workout.
The cost is $150 for a single, 4 – week camp.